Driver & Vehicle Documents
When driving a motor vehicle there are certain documents (physical & digital) that you'll need in order to be driving legally. Overtime all driver and vehicle documents will become digital. A comprehensive list of these documents and a detailed description of them can be found below. We have also provided you with some really useful links too!
---
Driver Documents
What is a provisional driving licence?
Before you can learn to drive a car, you'll need to apply for provisional driving licence. This can be done up to 3 months before your 16th birthday, but you can only use it to ride a moped or light quad bike until you reach 17 years old. You cannot start learning to drive a car until your 17th birthday.
When learning to drive a car, you must be suprvised by someone who:
has a full driving licence
has held that licence for a minimum of 3 years
holds that licence for the transmision type
is at least 21 years old
ensures the vehicle is safe and legal
meets the eyesight requirement
displays l-plates on the vehicle
However, we do not recommend being supervised by anyone other than a Driver and Vehicle Standards Agency (DVSA) Approved Driving Instructor (ADI) until you have learnt all the basics of driving. Your family and friends may not have the patience, knowledge, experience, skill and a dual controlled car which is needed to keep yourself and others safe.
Apply for a provisional licence online
Track your driving licence application
What is a full driving licence?
When you pass a category A or B test, you'll be given a full licence for the category for which you have passed. Category A is for motorbike, and category B is for cars and vans up to 3,500kg (or 3.5 tonnes). The full driving licence will normally have provisional entitlements for other categories. An example is; You passed the category B practical driving test and will still have category A provisional entitlement if you've not yet passed a category A riding test.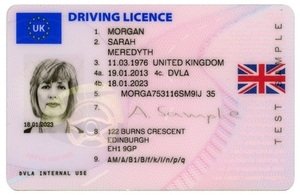 ---
Vehicle Documents
What is a V5C?
The V5C vehicle registration document (log book) contains the vehicle details such as; Vehicle Identification Number (VIN), date first registered, make of vehicle, model of vehicle, engine size, fuel type, colour of vehicle and number-plate registered to the vehicle. The V5C also has name and address of the registred keeper and the number of former keepers.
Sold, transferred or bought a vehicle
Get a vehicle log book (V5C)
Change your name or address (V5C)
Change the vehicle details (V5C)
Check it's not a stolen vehicle
Scrapping and write-offs
Private (personalised) number plates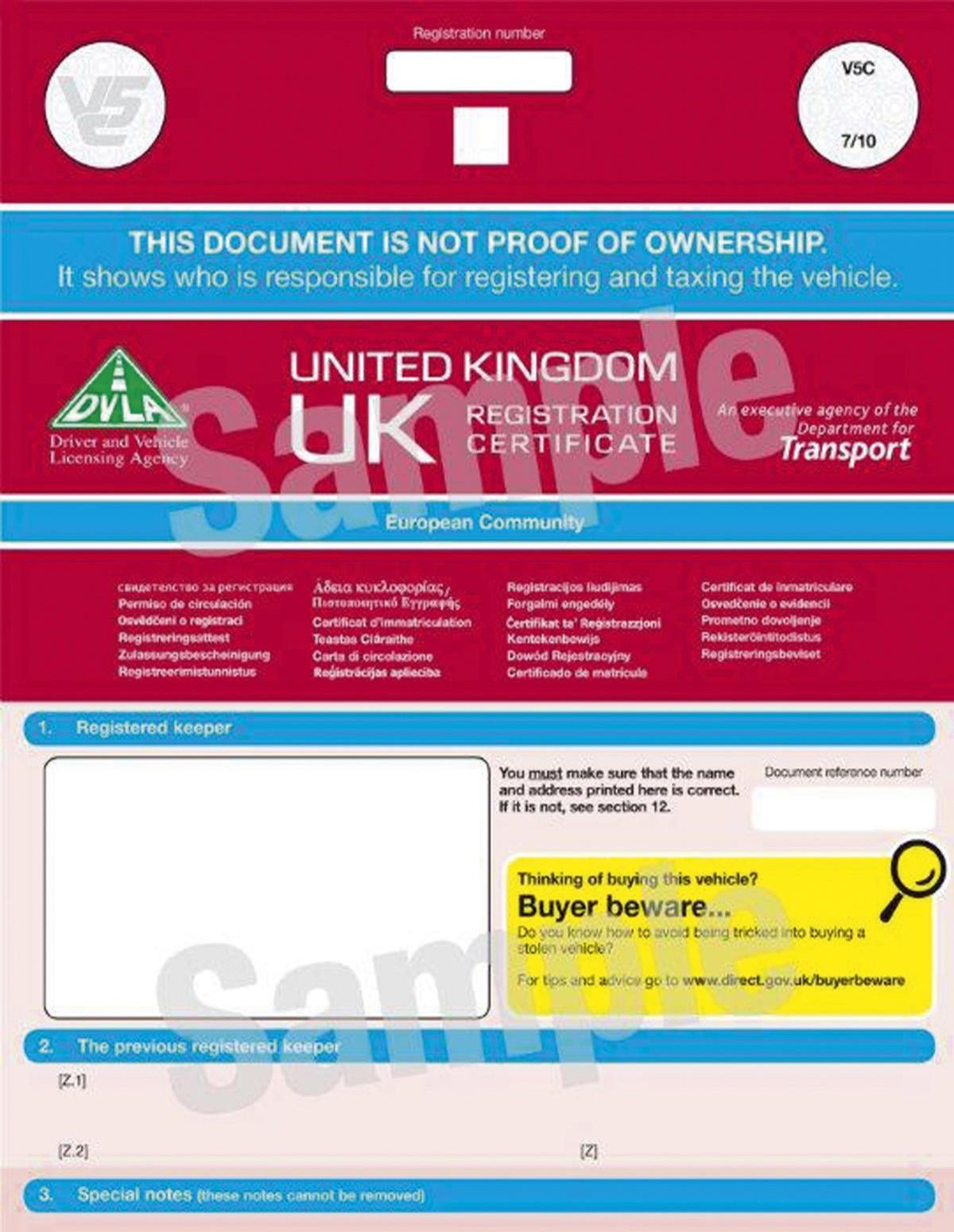 What is vehicle tax?
Up until October 2014 the vehicle tax was known as a tax disc. The tax disc was a circular piece of paper which had the vehicle details, a unique serial number and an expiry date. This was commonly displayed in the bottom nearside of the front windscreen.
As of October 2014 the government stopped issuing paper tax discs. When you purchase vehicle tax it's stored on a database which can be checked easily using just the vehicle number plate.
When keeping a vehicle on the road (NOT SORN), it must have valid vehicle tax. The easiest way to tax your vehicle is to do it online. You'll need the reference number found on one of the following documents; V5C, V5C/2 or V11, V85/1-HGV
If you do not plan to use the vehicle you must keep it off the road. You may keep it on your driveway, in your garage or on private land. To do this you must make a Statutory Off Road Notification (SORN). Whilst your vehicle is off road and SORN, you do not need a valid MOT or vehicle insurance as you are not keeping it on a public road.
NOTE: If you have just purchased the vehicle, you'll need the green new keeper's slip (V5C/2) to tax it. You will need to tax it and have valid motor insurance for it before you drive it away. The vehicle tax is not transferable to the new keeper when the vehicle is purchased, so the new keeper must tax it immediately upon purchase.
When your vehicle tax is due, you'll get a vehicle tax reminder letter (V11) from the DVLA. The (V11) vehicle tax reminder letter normally arrives 2-4 weeks before your renewal date.
Vehicle tax is monthly, so it'll start after midnight on the first day of the month and will run out at midnight on the last day of the month . If you purchase your vehicle tax half way through a month, you'll lose a couple of weeks.
Vehicle tax can only be purchased for six or twelve months at a time, but can be paid monthly or for six months or twelve months. Paying monthly or for six months, will incur a higher rate of duty than if you pay for the full twelve months. The fees for vehicle tax vary according to vehicle type, fuel type and emmisions.
Calculate your vehicle tax
Tax your vehicle online
Register your vehicle as (SORN)
Cancel vehicle tax and get a refund
Check if a vehicle is taxed
Report an untaxed vehicle
What is a MOT certificate?
The Ministry Of Transport (MOT) test is a road safety measure designed to ensure that all cars, motorcycles and light goods vehicles which are more than 3 years old, are at least once a year examined at an authorised MOT test centre. The vehicle must comply with certain requirements of the law and must be properly maintained. If the vehicle passes the MOT test, it'll be issued with an MOT pass certificate.
The Ministry Of Transport (MOT) authorised tester will check for the following; lights and switches, horn, speedometer, steering, suspension, brakes, number-plates, tyres, battery, windscreens, washer jets, wiper blades, mirrors, brake fluid, fuel system, seats, seatbelts, exhaust system and emissions.
You can get a new MOT certificate up to one calendar month before the old MOT runs out. We recommend getting the MOT done a couple of weeks prior to expiry, as this allows time to remedy any issues which may show up on the MOT.
Council MOT Test Centres (Recommended)
MOT Example
Getting an MOT
Check the MOT status
Check the MOT history
Report a vehicle with no MOT
Replace a MOT certificate
Historic vehicles: MOT and vehicle tax
---
Motor Insurance
What is 3rd party only insurance?
This is the minimum insurance cover required by law in the UK. 3rd party only insurance covers you against:
injuries to other people and damage to their vehicles
What is 3rd party fire and theft insurance?
The same as 3rd party insurance, but with added protection against:
your vehicle being damaged, stolen or destroyed in a fire
What is fully comprehensive insurance?
The same as 3rd party fire and theft insurance, but with added protection for:
medical expenses and accidental damage
the cost of replacing your vehicle's contents
Fully comprehensive insurance is the highest level of insurance!
What is telematics insurance (black box)?
Some insurance providers can fit a little box into your vehicle that has sensors to measure how, when and where you drive. By having a telematics device installed in your vehicle, it makes it possible for you to prove to the insurer that you can drive safely. Your motor insurance premiums are then calculated based on how safe of a driver you are, how often you drive and when you drive, instead of paying for motor insurance based on the average driver for your age and experience.
How do insurers calculate premiums?
The cost of motor insurance varies significantly from driver to driver, so it's worth shopping around to find the best deal for you. There are a number of factors which can affect the price of your insurance premium which include:
your age
where you live
your occupation
what you use the vehicle for
what type of vehicle you drive
where you store your vehicle at night
your estimated annual mileage
if you are the main driver or named name
if your vehicle is fitted with an alarm or immobiliser
your motor insurance claims history
fraudulent claims made by other motorists
driving offences commited by you
The data collected by a telematics box:
the time of day or night you drive
the speed you drive at on different sorts of roads
if you brake or accelerate sharply
if you take breaks on long journeys
your motorway miles
your total mileage
the total number of journeys you make
What is short-term insurance cover?
Many insurance providers have short-term insurance cover which is ideal if you borrow someones car or are learning to drive and only need to be insured for a short period of time. Short-term insurance cover is often used as learner driver insurance by many learner drivers for private practice in friends or family cars.